myPennMedicine - Your secure online health connection

What's New in myPennMedicine
myPennMedicine doesn't just look different — we've made it even more convenient to manage your health care online. Here's a quick look at our new and updated features. Select each to learn more:
Easier Appointment Scheduling
Finding and scheduling appointments has never been easier. Simply filter by location and provider to find appointment options that work for you. You can also save favorite appointments to quickly schedule again.
Link and Share Health Records
You can now connect your myPennMedicine health record with your health record at participating organizations using the Connect your Accounts tool. You can also provide one-time access to selected parts of your myPennMedicine health record to anyone you choose (for example, a non-Penn Medicine provider, social worker or school nurse) using the Share Everywhere tool.
Just select Health, then Share My Record to view a list of options to securely connect and share your health information.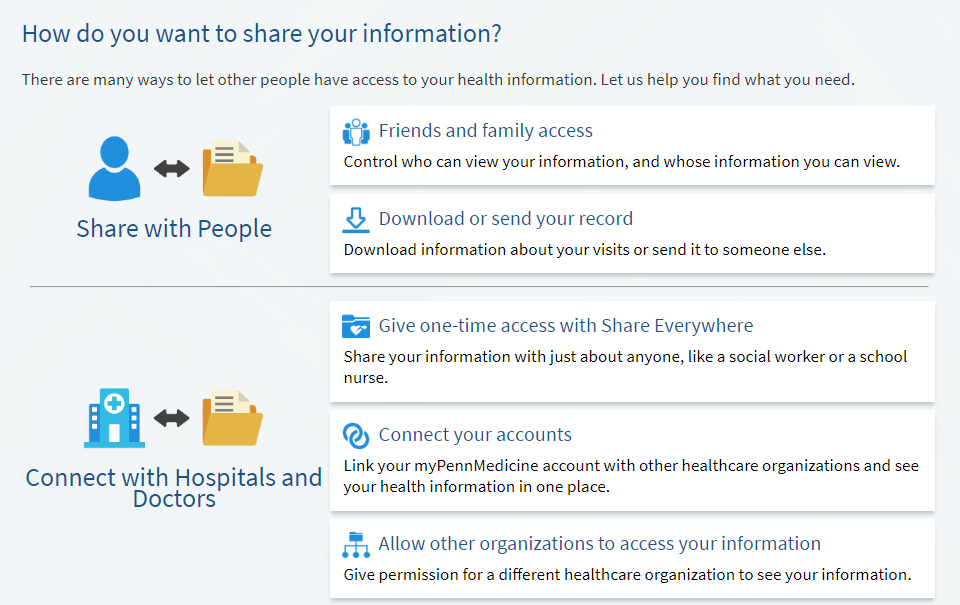 Quicker Access to Provider Notes
myPennMedicine now offers easy access to notes written and shared by your care team during your outpatient visits. These notes often include important information on taking medications or managing a condition.
Improved Password Protection
Resetting your myPennMedicine password now uses the extra security of two-factor authentication. This means that a security code will be emailed to you to confirm your identity before you can change your password. Please ensure that your email address and other contact information is up-to-date in the Personal Information section under the Profile tab.
Pay Your Bill Online
Conveniently and securely pay your bill online at myPennMedicine.org or with the myPennMedicine app. This feature lets you pay your Penn Medicine provider or hospital bills, review your payment history and statements and send secure messages directly to customer service regarding bills or payment. Learn more about bill pay. [http://mypennmedicine.org/faqs]
Enhanced Notification and Profile Preferences
Now you can choose how to be contacted for different types of myPennMedicine notifications, such as appointment reminders, test results and messages from providers. To change notification settings, select Profile, then Communications.
The Contact Information page has been replaced with a Personal Information page, which lets you add important details to your profile, including your emergency contacts, sexual orientation and gender identity.

New Browser and App Requirements
Please note that myPennMedicine no longer supports Internet Explorer 10 or earlier. We recommend using one of the following browsers:
Microsoft Edge
Internet Explorer 11.0
Mozilla Firefox 52.x and above
Safari 9+ on Mac
Google Chrome 52.x and above
Want to learn more?
View a list of Frequently Asked Questions about myPennMedicine.
[http://mypennmedicine.org/faqs]